Announcements
Easy start for new players on the server Medea x100.
We don't make any wipes at all. Your items will always be with you.
Latest update patcher is always available here.
We are pleased to announce that Medea x100 world is expanding - an additional server is being launched. The server does not have most of the events and bosses, and access to some locations is limited. For the most part, the server is designed for leveling. Subserver should slightly offload the main server and improve the quality of the game. Detailed information can be found
here
.
Also, we added xtremetop voting option, so now
you can vote
2 times and receive 2 extra bonuses per day.
Update: we make some changes with formulas and balance. More about all of this stuff you can read
here
.
For the past half a year of project work, we have done a very large amount of work. Thanks to everyone, who played, plays, and will play with us.
Some details about our project statistics. On the Prime x5000 server 14610 accounts were registered, on the Website market, more than 7 thousands of items were sold, for the price of more than 300 thousand bonuses and zen turnover achieved 2.5 trillion. 5 different guilds conquered castle on the Castle siege event. These statistics show how active and competitive our first server turned out. After making corrections, we want to make a step forward.
We will continue to make gameplay aspects closer to the ideal and implementing exclusive customs, no one else will ever have. Because our server is a special one and differs from the other. Hope you will appreciate our labors.
Medea x100
- Server with medium experience rate, our unique "Set bonus" system, a brand new event - War of Legends and Quest system.
"Set Bonus" - MUX Legend special exclusive custom - temporary buff on your character that benefits from the items you are wearing.
Finally on MU Online server was founded the real good balance between Excellent, Socket, and Mastery sets. More about "Set bonus" buff you can read
here
. 
War of Legends - our permanent event for players, which concentrates on killing bosses in Legends Arena. More information about this event will be soon.
Consecutive in-game Quest System with more than 275+ missions, and more quests coming soon. For competing tasks, you receive Zen, Wcoins, Jewels, loot boxes, RUUD, and additional stat points.
Main facts about our project
here
.
Our game worlds features full list you can find
here
.
Full information about server with reset table you can find
here
.
New server Medea x100 was opened on September 24th!
We are starting to add some things, that we disabled at the start.
Pandora Mining system. If you are tired of fighting with players and monsters, you can pick up a pick and test your luck!
Pandora pick is all about the luck. So you can find the Pandora Pick with little chance in drop from Box of Luck. More about this system
here
.
Arka war. This is a big Guild vs Guild event, where you can earn "Trophy of battle" and exchange it to different prizes. Also, the winning guild receives extra buffs. The event will take a place at the 20:30 on Tuesday. More information about this event will be published soon.
We are opening to suggestions about the Illusion temple event. We wanna see there good PvP action, where real players are fighting, not just party vs fictitious party to earn benefits. Our suggestion - only 1 time per day, ticket can't be traded or this ticket will have a duration for 24 hours, and before the event, only 2 weak monsters appear somewhere, which can kill any player. What do you think?
About balance. Some minor changes for different classes, but big changes for Summoners.
Significantly increased power of skills Berserker, Aqua beast, and Fire beast. Instead of that, Deathside skill has reduced their power. But skill Darkness now gives more defense. So now the variability of the summoner is much better.
Changed formula of Reflect skill, and now it can give you a maximum 15% of reflect. More about this decision will be below.
Changed Fairy elf skill "Increase damage". Now the power of this skill depends on the class, so there won't be that situation when Dark Lord class received more than 60% extra damage, but Soul master only about 10-15%. Now all classes receive about the same gain of power.
In the future, the same mechanic will be applied to all the other buffs. This makes PvP much better when in the first place will be class own abilities, not just count of other classes buffs.
When it will be applied, reflect for summoner will be higher than 15%, but for other classes, these digits will be lower.
Now you can buy an empty sphere in Devias shop NPC, for a price of 60kk zen. This must increase the value of zen, and make socket sets a little bit more accessible.
Added new 25 quests. Full list of Quest System you can find
here
.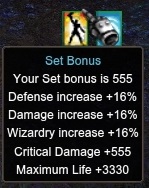 "Set Bonus" - MUX Legend special exclusive custom - temporary buff on your character that benefits from the items you are wearing. Buff is calculated from 7 items slots: Helm, Armor, Pants, Boots, Gloves, Weapons, and Shield. This custom can fully answer on question - what is the point in collecting a better grade set?
The greatest impact comes from the number of Excellent Options on your Items. Item Grade (Pad Low, Venom mist High), Item Levels, and Luck Option are also taken into account.
More about Set bonus you can read
here
. .
We think, that everyone is already tired of an absolutely senseless excellent drop from monsters. So, we decided to remove all excellent weapons and shields from the drop (weapons and shields drop only from the monsters, which are using exactly these items), and leave only set items. Now you can easily understand, where to find items.
Also in Devil Square now will work the same system drop system, like in Blood castle. These tables you can read
here
. 
Socket items are now easier for the players to reach. Now all items from "Socket box" have Luck. Also in our land appears a new monster - Socket items thief. He is running somewhere in Raklion, not so far away from Devias entrance area. You can meet some of them also in Devias, near Raklion entrance, but it's like 50/50. From this "Socket items thief", you can obtain random socket item.
In Lorencia, Devias, Noria, and Embeland, 1 extra Gold rabbit was added.
In Imperial Fortress Event, from the statues with a middle % chance, you can get Jewel of Creation.
Now you can add jewel of Harmony to the ancient items too.
In the next update:
New functions on the website, adding some features, which is enabled now, other game improvements, and working with balance.
Game improvements and changes:
New boss - Great dragon. He will land every day somewhere in Embeland at 19:15. The luckiest player, who will find and kill him first, will receive a highly valuable drop - Excellent Blood angel weapon or random amount of RUUD (from 1000 till 15000)
Restrictions, regarding Damage decrease and 3 options in craft system were removed from the website.
The last 2 spots on the VIP arena were changed. Now Deep dungeon hell spider and Deep dungeon Gorgon are there. But don't worry, experience, gained from them, will be more, than on previous spots.
Tier 8 sets for Grow lancer, Rune wizard, and Slayer now are slightly better. Defense and durability are similar to other tier 8 sets.
Golden rabbit respawn coordinates changed. Now their respawn became less predictable.
A lot of pain is coming from Crywolf city. This is the second city after Devias by kill counts, Fenrir parts drop not that often, and after that, there is a need to meet up with chaos goblin...
So we wanna make the life of our players slightly easier, and make their first step to the world of PvP a bit faster.
Crywolf now isn't a free-pk zone.
Parts of Fenrir will drop slightly more often.
Increase chances of stages
1st stage is 80% instead of 75%
2nd stage is 60% instead of 50%
3rd stage is 45% instead of 30%
These features were added earlier, but now you can store and trade your RUUD boxes.
Removed "Final 5 minutes" restriction from Blood castle. Now you can return the quest item to Archangel at any time. But don't forget about players, who are leveling up!
In Blood castle and Devias square drop of zen is disabled. This may increase your PC performance and no need to change settings in "Mu Helper" during the event.
Now you can obtain a "Socket item box" from the "Zen lottery". Chance is the similar to TOCA item.
Increased chance of getting better options on seeds. Now you will receive seeds for set items more often, then weapon seeds.
Fixed problem with Nix and Ferea bosses, when you couldn't enter boss zones.
Problem with 3 level wings variability, and low chance of receiving luck on them.
Fixed Wrath Mastery buff, which wasn't, working when applied more than once.
Elemental damage for Slayer fixed. Now it depends on your strength, not on energy stats.
Some other minor bug fixes.
Balance:
We are starting to investigate more deeply the necessities of the balance, but this might take much more time than we can expect.
Classes GL, MG, and DL now became more balanced. There weren't any changes with their skills or defense/attack formulas, just % of damage in PVP in comparison to other classes.
Slayer is another big trouble. We've worked also with them, but problems were deeper, so Slayer will receive a bit different mechanics now.
Bat flock damage was significantly decreased. Instead, DOT damage (damage over time) was significantly increased. Also increased time of Bat flock debuff from 3 to 6 seconds.
The main reason for these changes - unpredictable damage and serious lags.
Elemental damage for some of the classes was decreased but increased for some other classes. Now it should be more equal among them.
Increased Damage decrease cap till 68%.
Please keep in mind: these balance changes aren't final and can be changed.
This is only the first part of this big update. In the next 1-2 weeks, we will try to resolve the main problems with balance and balance all other classes.
Will be a rework of socket items, to increase their popularity among the players, and rework of excellent items drop from monsters, and next part of quest system and other stuff.
Also, don't forget about our in-game and forum quests. You can find their schedule on our forum and in the Discord channel.
Please run launcher to receive an auto-update. If you have a problem with the launcher, you can download our patch
here
.